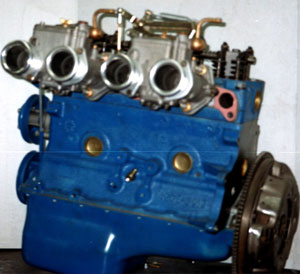 Welcome to The Engine Shop
Ford Model T, A, V8; Chrysler, Chevrolet, Buick, Plymouth, Austin, Morris, Holden
We can provide all the machining requirements for your classic engine rebuild.
Remetalling of bearings, resleeving & reboring of cylinders, lineboring, resizing conrods, balancing, crankshaft grinding, camshaft grinding, valve & seat refacing,
inserting of valve seats, crack repair, water jacket de-scaling, engine assembly.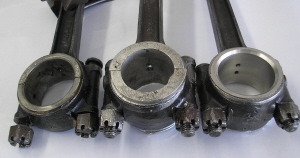 Ford Model T conrods, from left to right, worn conrod, freshly poured, finished conrod.
EMF, these cars were built 1909-1912. We have modified a set of rods to take BMC 1275 bearings, 2 pairs of shells per conrod and fitted bushes to suit a set of pistons that are being made.



Big end tunnel bored and ground. Small end bored (right) and finish honed (left) Bush fitted and honed to suit gudgeon pin
| ©2010 DG Engine Services